The Leibniz Review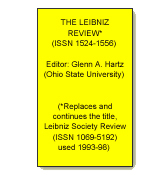 Fundada en 1991, está avalada por la Leibniz Society of North America, y en lo fundamental persigue lo mismo que la Studia Leibnitiana pero en el ámbito anglosajón. Tiene periodicidad anual y la lengua oficial es el inglés.
buy diazepam without prescriptionambien online no prescriptionbuy valium online without prescriptionbuy klonopin onlinebuy valium onlinebuy online no prescriptionvalium online no prescriptionphentermine for salebuy ativan no prescriptionsoma for salebuy tramadol online no prescription
Editor: Glenn Hartz (Ohio State University) [hartz.1@osu.edu]
Board of Ediorial Consultants: Robert M. Adams (Yale University), Daniel Garber (Princeton University), Mark Kulstad (Rice University), Nicholas Rescher (University of Pittsburgh), R.C. Sleigh, Jr. (University of Massachusetts)
Leibniz Texts Referee: Massimo Mugnai (Scuola Normale Superiore, Pisa)
Para más información
Número 14 (December 2004):
Articles:
Michael J. Murray: Pre-Leibnizian Moral Necessity
Abstract: The mature Leibniz frequently uses the phrase "moral necessity" in the context of discussing free choice. In this essay I provide a seventeenth century geneology of the phrase. I show that the doctrine of moral necessity was developed by scholastic philosophers who sought to retain a robust notion of freedom while purging bruteness from their systems. Two sorts of bruteness were special targets. The first is metaphysical bruteness, according to which contingent events or states of affairs occur without a sufficient explanation. The second is semantic bruteness according to which a proposition can be true without a truthmaker. Denying either sort of bruteness was thought by some to raise problems for freedom. Defenders of moral necessity thought the notion solved these problems without having to invoke bruteness.
Leibniz Texts:
Wolfgang David Cirilo de Melo & James Cussens: Leibniz on Estimating the Uncertain: An English Translation of "De incerti aestimatione" with Commentary
Abstract: Leibniz's "De incerti aestimatione", which contains his solution to the "division problem", has not received much attention, let alone much appreciation. This is surprising because it is in this work that the definition of probability in terms of equally possible cases appears for the first time. The division problem is used to establish and test probability theory; it can be stated as follows: if two players agree to play a game in which one has to win a certain number of rounds in order to win the pool, but if they break the game off before either of them has won the required number of rounds, how should the pool be distributed? Our article has two aims: it provides the readers with the first published English translation of "De incerti aestimatione", and it also gives them a brief commentary that explains Leibniz's philosophical and mathematical concepts…
Book Reviews:
Massimo Mugnai: Substance and Individuation in Leibniz, by J.A. Cover & O'Leary-Hawthorne
Patrick Riley: G.W. Leibniz, Sämtliche Schriften und Briefe, Reihe IV (Politische Schriften) Band 5
Nick Trakakis: On Leibniz, by Nicholas Rescher
J.A. Cover: Leibniz on Purely Extrinsic Denominations, by Dennis Plaisted
Dennis Plaisted: Reply to Cover
Discussion:
Heinrich Schepers: Non alter, sed etiam Leibnitius: Reply to Dascal's Review "Ex pluribus unum?"
Marcelo Dascal: Alter et etiam: Rejoinder to Schepers
Andreas Blank: Definitions, Sorites Arguments, and Leibniz's "Meditation sur la notion commune de la justice"
News from the Leibniz-Gesellschaft
News from the Spanish Leibniz Society
Announcement from the Agudat Leibniz Israel
Report on the 2004 Montréal "Nouveaux Essais Conference"
Recents works on Leibniz
Acknowledgements, Subscription Information, Abbreviations
***
Número 13 (December 2003):
Articles:
Andreas Blank: Incomplete Entities, Natural Non-separability, and Leibniz's Response to François Lamy's "De la Conoissance de soi-même"
Jack D. Davidson: Leibniz on the Labyrinth of Freedom: Two Early Texts
Justin E.H. Smith: Confused Perception and Corporeal Substance in Leibniz
Leibniz Texts:
Patrick Riley: Leibniz's "Meditation sur la notion commune de la justice", 1703-2003
Philip Beeley: Leibniz on the Limits of Human Knowledge: With a Critical Edition of "Sur la calculabilité du nombre de toutes les connaisances possibles" and English Translation
Book Reviews:
Marcelo Dascal: Ex pluribus unum? Patterns in 522 + Texts of Leibniz's "Sämtliche Schriften und Briefe VI,4"
Massimo Mugnai: G.W. Leibniz, The Labyrinth of the Continuum: Writings on the Continuum Problem, 1672-1686, Translated, Edited, and with an Introduction by Richard T.W. Arthur
Cees Leijenhorst: Christia Mercer's Leibniz's Metaphysics: Its Origins and Development
Patrick Riley: G.W. Leibniz, "Sämtliche Schriften und Briefe, Reihe IV (Politische Schriften), Band 5"
News from the Leibniz-Gesellschaft
News from the Spanish Leibniz Society
Web Resources on Leibniz
Recents works on Leibniz
Acknowledgements, Subscription Information, Abbreviations
***
Número 12 (December 2002):
Leibniz Texts:
Philip Beeley: Leibniz on Wachter's Elucidarius cabalisticus: A Critical Edition of the so-called 'Réfutation de Spinoza'
Donald Rutherford: Leibniz's "On Generosity," With English Translation
Articles:
Samuel Levey: Leibniz and the Sorites
Book Reviews:
Massimo Mugnai: Jean-Baptiste Rauzy's La doctrine Leibnizienne de la verité: Aspects logiques et ontologiques
Jean-Baptiste Rauzy: Reply to Massimo Mugnai's Review of La doctrine Leibnizienne de la verité
Cees Leijenhorst: Christia Mercer's Leibniz's Metaphysics: Its Origins and Development
Christia Mercer: Reply to Cees Leijenhorst's Review of Leibniz's Metaphysics
Ohad Nachtomy: Reginald Osburn Savage's Real Alternatives: Leibniz's Metaphysics of Choice
Reginald O. Savage: Reply to Ohad Nachtomy's Review of Real Alternatives
Michael J. Murray: E.J. Kremer and M. J. Latzer (eds.), The Problem of Evil in Early Modern Philosophy
Patrick Riley: Gottfried Wilhelm Leibniz, Sämtliche Schriften und Briefe: Allgemeiner Politischer und Historischer Briefwechsel, Siebzehnter Band
Catherine Wilson: François Duchesneau's Les Modèles du vivant de Descartes à Leibniz
Discussion:
Martin Schönfeld: Christian Wolff and Leibnizian Monads
J.E.H. Smith: German Scholarship on Leibniz, 1900-1945
News from the Leibniz-Gesellschaft
Recents works on Leibniz
Acknowledgements, Subscription Information, Abbreviations